Call Center Scheduling Software
AgentTime™ call center scheduling software is an easy-to-use, affordable solution for call center workforce management. With our AgentTime software, you import your call volume forecasts and average call lengths by time period.  AgentTime will create optimal weekly schedules for your agent groups.
AgentTime gives you an affordable and realistic off-the-shelf workforce management software call center solution.
No other fees. Our customer support is free — forever.
Our intuitive user interface lets you create weekly schedules. You can instantly modify them based on personal knowledge and ongoing day-to-day changes in operations.  Say goodbye to your cumbersome spreadsheets!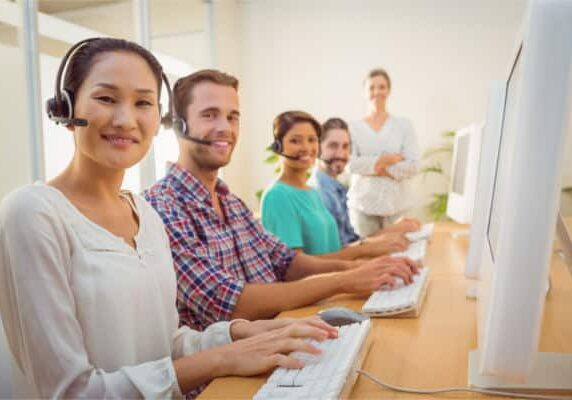 Call Center Staffing Software is Included
Our AgentTime call center scheduling software includes Portage's powerful Call Center Designer and SimACD call center staffing software. These two modules are used to calculate optimal agent levels for each time period for your workweeks. Call Center Designer predicts your staffing requirements and other performance statistics for each time period in your workday using established Erlang-C formulas. SimACD then refines these calculations allowing you to test and try out different numbers of agents in a computer-simulated automatic call distributor (ACD) before creating the schedule.
Optimal Call Center Scheduling Software
AgentTime takes the agent requirements created from these staffing modules and schedules your agents for work shifts based on their availability, priority, and preferences. You create shift definitions and available agent lists with agents' desires and ranking.
AgentTime's scheduling algorithm creates optimal schedules based on your requirements and the profiles of your agents. Shift assignments include inbound or blended outbound phone duty, email, or chat.  AgentTime optimizes the assignment of breaks, lunches, meetings, training, and other work activities.
Flex-Shifting and Call Blending
Our Flex-Shift™ optimization makes agent group schedules perfectly match with your agent level needs in blended and multi-channel centers.  Tasks such as outbound calling, email follow-ups or chat are optimally placed for each 15 minute time period.
Flex-Shift will intelligently predict when to switch your agents back and forth from inbound to outbound and other work to create for you the most optimum schedules possible.
Reporting
Use our AgentTime Publishing Tool to send work schedules in Excel or HTML formats to your agents.   All Call Center Designer, SimACD and AgentTime calculations can be exported to Excel to create custom reports and graphs.
We've been sold other WFM products and found them to require intensive training. While some of the WFM products on the market offer a lot of features, many go unused. AgentTime requires no on-site installation or training.   

Linda Hogan, VP of PTel Inc.