The Best Erlang-C agent staffing tool to optimize your Call Center.
In the process of call center staffing, questions like the following will always be asked:
How many agents do I need for my desired service levels?
What will happen if our call volumes increase by 10%?
How will a raise in our service level affect our profits?
How efficient will our agents be at varying service levels?
With Call Center Designer™, you enter your call center volumes, costs, and service level goals, either manually or by pasting in the data from ACD reports and spreadsheets.  Our call center staffing software will  then show you how well your call center is doing, and how well it can do by week, day, hour, and minute using well established Erlang-C staffing formulas.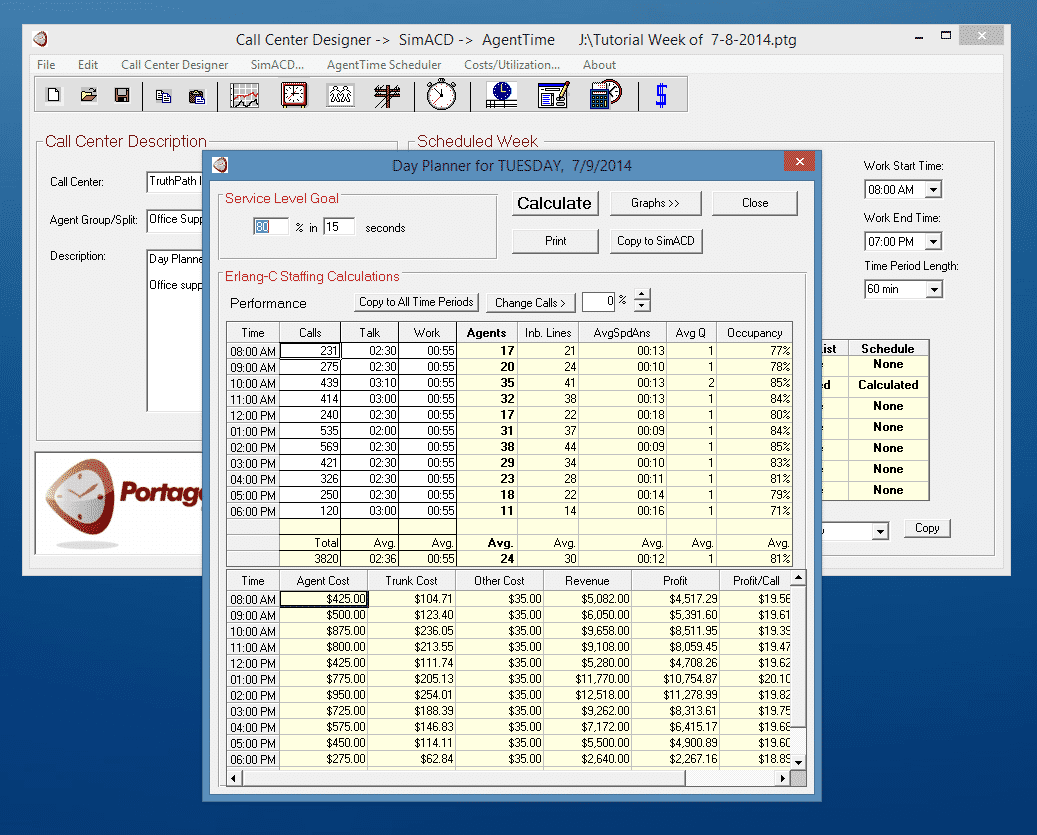 Determine the optimum number of agents you need for your desired service levels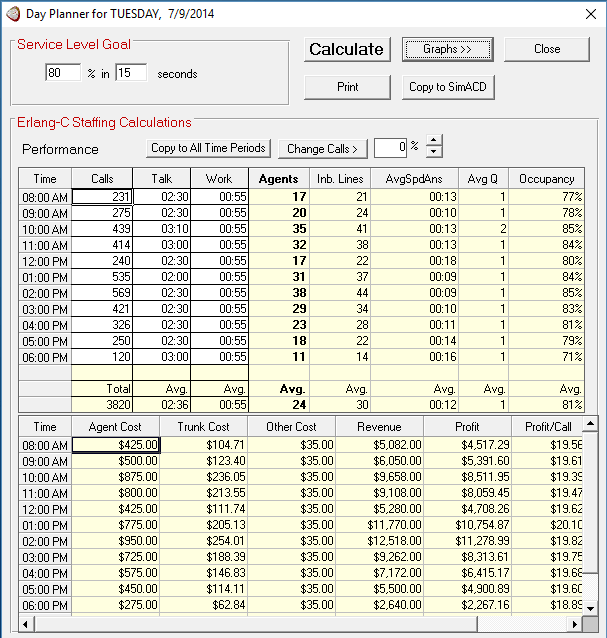 Day Planner
By hour, half hour, or quarter hour, determine the ideal number of agents and lines to handle the peaks and valleys of your call traffic for each day of your work weeks.  Display, print, or export to Excel.
What You Do:
You enter in the call volumes and expenses of your call center, number of calls, arrival period, average talk time, after call work time, maximum caller wait, desired service levels.
Enter the information manually or paste it in from your ACD reports and spreadsheets.
You will then view Call Center Designer's performance statistics or print them. You may also save all your entries and the calculated statistics to files that can be recalled later. All calculations and graphs may be transferred to Excel or Word with a couple of mouse clicks.
What It Will Do For You:
Call Center Designer uses customized versions of the Erlang C and Erlang B probability algorithms for staffing and trunking calculations.
With this information, you can quickly adjust expected call volumes, call lengths, and service levels to plan and answer all your "what if" questions.
All the information you need to plan efficient call center operations is presented in both numeric and graphic formats with common sense language.
In addition to telling you how many agents and inbound lines you need, Call Center Designer gives you many other vital performance predictions:
% of calls answered within a given time. Average time in queue.
% of calls delayed. Length of queue.
% of calls likely to abandon. Percent busy.
% of time agents will be on a call. Agent, trunk and other costs.
Average speed to answer. Revenue and profit per call.
All our call center staffing software runs on all versions of Microsoft Windows.  $60.00  Be sure to look at our SimACD simulation software that refines and improves on Erlang C calculations.
I've worked with Portage and purchased various versions of the software since Portage's introduction of Call Center Designer in 1996. I've always been impressed, that even when compared to "so-called" comparable products in the marketplace, I've always returned to Portage. Call Center Designer provides the most reliable and easy to use WFM product for small call centers. In addition, Stuart Harris is always available for support when you have questions or need assistance. I strongly recommend Call Center Designer and have been an extremely happy user for 20+ years!  

Mike Maffei,  VP Hodges-Mace