What is AgentTime?
AgentTime is a stand-alone call center workforce management software (WFM) product.  It predicts the optimum number of agents you need to meet your service levels for each time period in your workweek, maintains a database of shift definitions and agent availability, and then creates optimal agent work schedules for future weekly schedules.
Is it used for inbound or outbound call centers?
It is designed for inbound call centers and for call centers that do both.  AgentTime will perform call blending where it will reassign agents from inbound to outbound or other work duty (email, chat, etc.) in overstaffed time periods, and vice versa for understaffed time periods.  We call this Flex Shifting.
How many agent groups and how many weeks into the future can it schedule?
You may create schedules for as many weeks into the future for as many agent groups as you like.  Each schedule is just a new data file that gets saved.
How does AgentTime compare with other call center WFM systems?
AgentTime is an easy-to-use inexpensive product when compared to the high-end call center WFM systems on the market. Our affordable pricing is targeted to small and medium-sized call centers who may not want to spend $50,000.00 and more for expensive on-premise systems, or $15 to $30 per agent per month for cloud-based solutions.  At similar or lower cost we provide a much more sophisticated solution than low priced tools such as KoolToolz.  AgentTime is specifically designed for the unique scheduling operations of call centers  — not just simple employee scheduling.
How does it work?
AgentTime accepts the optimal agent requirements created from either our Call Center Designer or SimACD staffing engines to then assign agents to work shifts based on their availability, priority, and preferences. The user creates shift definitions, a list of agents describing the shifts they are available for in order of preference along with their hire dates and rank. AgentTime's scheduling algorithm then creates optimal schedules based on the requirements and the profiles of the available agents. Shift assignments include inbound or blended phone duty, email, automated optimal placement of lunches and breaks, meetings, training, and other work activities.
Our Flex-Shift™ optimization performs a second optimizing pass through the agents' schedules to make the total agent group schedule even more closely match up with the agent level requirements in blended and multi-channel centers.  Tasks like outbound calling, email follow-ups or chat are optimally placed on a time period by time period basis.  The Flex-Shift algorithm will intelligently predict when to switch agents back and forth from inbound to outbound and other work to create the most optimum schedule possible.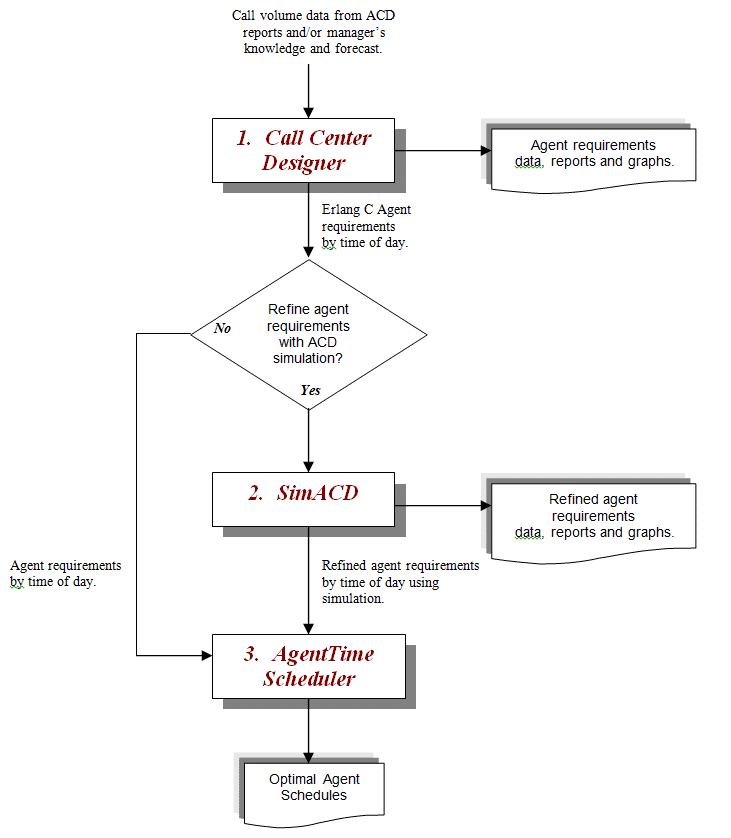 Who are typical buyers of AgentTime?
Our typical buyer has a call center with one or a number of agent groups of between 20 and 150 agents each.  They usually are scheduling their agents using Excel sheets of their own design and are looking for something more sophisticated and efficient but still at a comparatively low cost.  We have also sold AgentTime to customers who already had high-end WFM systems but were frustrated by the time and complexity involved in using them.
What is the cost?
AgentTime (which includes our Call Center Designer and SimACD staffing modules) costs just $380.00.  There are no other costs: no monthly fees, no set-up fees, no customer support fees.  Customer support is free — forever.
What operating systems does it run on and how much disk space does it take?
Our software installs and runs on all versions of Windows right up to the latest releases of Windows 10.  The software only takes up 10MB, each scheduled week's data file is just 7MB.
How is the software licensed?
A single copy of AgentTime may be installed on multiple managers' workstations at one physically located call center. All the managers can work on any created schedules and share them.  We discount the pricing for multi-site installations.  If you buy just the Call Center Designer and SimACD tools without the scheduler, that software is sold on a per manager workstation basis.
What product support do you provide?
Portage Communications provides free telephone and email support — forever.  You do not have to buy any "support package". There are no monthly fees, no setup-up fees, no install fees.  Again,  customer support — forever.
How is AgentTime delivered?
By download and hardcopy.  The hardcopy is a USB drive with a printed 110 page User Guide.  We will email you a download link.
What are some of the companies that have bought your software?
Over a thousand companies have purchased our software.  You can view a partial customer list here.
How do I learn more?
You can download a descriptive PDF presentation here. There are also three YouTube demos here.
  14.   Do you sell internationally?
We certainly do.  About a third of our sales are outside our home country of the United States.  Also, we are always looking for representation and resellers worldwide.